As the Bobcats' prepare for their second (and final) playoff appearance, we have scoured the web to provide a list of content to help in your preparation. On to the links.
First up, a simple illustration that was posted at TrueHoop which summarizes expectations: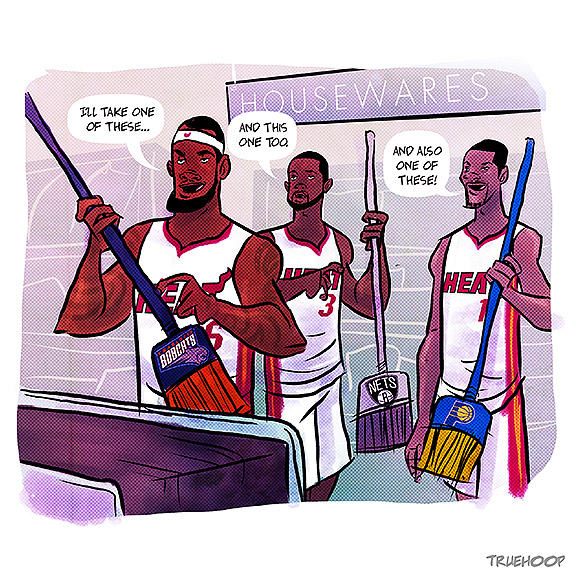 It's not a unanimous expectation, but it is the prevailing one.
Here's a video from TrueHoop, talking about the improvements the Heat need to make in their defense to have a successful post-season:

(and a link in case the video embed doesn't work – The challenge facing the Heat's D)
Hardwood Paroxysm has a couple of posts of interest to the Bobcat brethren:
Though they face a likely cameo appearance in the 2014 playoffs, that isn't the be all and end all for Charlotte. This is about gaining experience for the future and learning what it takes to succeed as a playoff team. For players like Kemba Walker and Michael Kidd-Gilchrist getting their first taste of playoff basketball, they will be imbued with a desire to get back again and again. For rookie coach Steve Clifford, this will also be a learning experience for him as well.
– Derek James at Hardwood Paroxysm – I can't wait for the Bobcats to return
To expect more than one victory from Charlotte in the series can only reflect a belief that the Heat are still idling in neutral warm-up mode. It would be a token victory, perhaps hollow solace compared to the opportunity to enter this year's vaunted lottery. But the Charlotte NBA Franchise is on a journey of a thousand miles and they need to take as many steps as possible. I hope, for just one evening, that Michael Kidd-Gilchrist can bamboozle LeBron James, that Al Jefferson drives Chris Bosh to tears with dozens of plodding possessions from the left block, that the majestically bearded Josh McRoberts can find more arrows in his quiver than Ray Allen.
– Miles Wray at Harwood Paroxysm – I can't wait for the Bobcats to steal one
Miami Heat (2) versus Charlotte Bobcats (7): The Bobcats have made the playoffs for the second time in franchise history and will look to leave behind the Bobcats name with as big of a bang as possible. For the Heat, they look to make the Bobcats another stepping stone to their third consecutive championship.
– Derek James again – Hidden subplots of the 2014 NBA playoffs
Over to RufusOnFire for a couple of links:
Who comes up biggest for the Bobcats in the series?

Ben: I think it's got to be Al Jefferson. Miami can afford to throw double teams at him, but Charlotte can counteract that to a degree by flashing cutters from the elbow. Chris Bosh is a tough defender but Jefferson's strength on the block is hard for him to defend. The Bobcats will post Jefferson up, re-post if needed and try to work him on screen and rolls — whatever different looks Clifford can give the Heat with Jefferson, he should and will try.
– Roundtable on the series at RufusOnFire – Bobcats vs Heat playoff roundtable
One of the the scariest parts about Miami's collection of upper echelon starters is that they can rotate the rest for them so that they minimize being without LeBron James, Dwyane Wade and Chris Bosh all at the same time.

Still, even when they give them time on the bench, Miami's got a talented group of role players. They're an odd bunch of veterans, journeymen and reclamation projects, but they fill their roles pretty well.
– Ben Swanson at RufusOnFire – Bench battles: How do Charlotte and Miami match up?
This one is not necessarily playoff related, but Bobcats Baseline did an interview with one of the people behind the web series on Chris Douglas-Roberts return to the NBA, and you should check it out: BobcatsBaseline – Never turn your back on the grind.
I'll finish with a great rundown of the Bobcats' rebuilding process from Rick Bonnell:
In the spring of 2010 the Charlotte Bobcats got a fleeting glance at the NBA playoffs.

It was four games against the Orlando Magic, all losses to a Dwight Howard-led team that reached the Eastern Conference finals

Turns out the only participant in that playoff series who ended up mattering to the Bobcats was a Magic assistant coach named Steve Clifford (more about that later).
– Rick Bonnell at the Charlotte Observer – Charlotte Bobcats followed plan to 2014 NBA playoffs
EDIT – Whoops, forgot about the 5 on 5 our very own Spencer Percy took part in over on ESPN:
2. What's the scariest thing — good or bad — about the Bobcats?
Gutierrez: The inside-outside threat. The Cats may not be overflowing with deadly 3-point shooters, but if the Heat pay extra attention to Al Jefferson and his old-school, efficient post game, then the combination of Kemba Walker, Gary Neal, Gerald Henderson and possibly even Josh McRoberts could make life difficult for Miami. That fear starts with Jefferson, though, who averaged 24.5 points, 14.3 rebounds and 53 percent shooting in eight April games.

Krolik: For most teams, it would be Charlotte's greatly improved defense, but for the Heat, it's Al Jefferson. The Heat are as undersized as ever inside, and Greg Oden's glacial lateral movement has kept him from being a post-stopper.

Percy: Al Jefferson is the politically correct answer, but honestly, I believe it's that they're a complete team. They can be 10 guys deep, and they'll come at you by committee from night-to-night. They are deceivingly tough to devise a game plan for.
– Heat and Bobcats 5 on 5