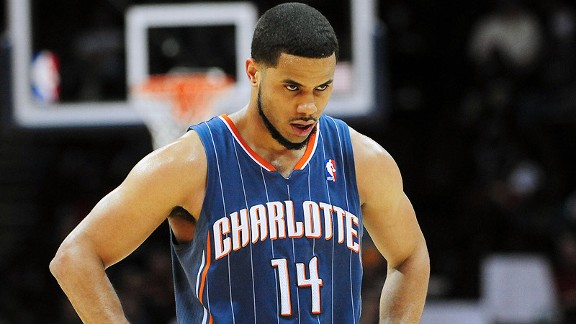 D.J. Augustin's tenure with the Charlotte Bobcats has officially come to an end. In four years Augustin's career was full of up's and down's that made it very difficult to put a true value on what the PG offers in this league.
Yesterday evening it was being reported that Charlotte and Indiana were in the process of working out a sign-and-trade that would involve Augustin and, potentially, Tyler Hansbrough coming back to Charlotte. That deal fell through last night for reasons still unknown. As the sun rose on the remainder of the free agency world today the Bobcats had their sites set on Ramon Sessions, the unrestricted free agent who finished last season as the starting PG for the L.A. Lakers. Charlotte was able to come to an agreement with Sessions and as that happened Augustin's fate was sealed in Charlotte- finished.
The Bobcats may have explored a few more sign-and-trade scenarios this afternoon after agreeing with Sessions, but it must have been quite evident that no one was interested. Charlotte has now officially rescinded Augustin's qualifying offer worth close to $4 million and made him unrestricted free agent.  Since then, reports have surfaced that Indiana has come to an agreement on a one-year contract with Augustin, so they were always interested, but not willing to give what the Bobcats wanted back for him in sign-and-trade.
Augustin has legit talent and was known as a great shooter coming out of the University of Texas. In his rookie season, Augustin knocked down 44% of his shots from behind the arc and was Charlotte's most dangerous outside threat in their first ever playoff appearance. When Augustin was officially promoted to the starting PG, after Raymond Felton departed, his shooting numbers started to plummet and have continued to regress since. Last season, Augustin shot a career low 37.6% from the field and averaged a career high 2.3 turnovers/game. Much of the struggle is a product of the depleted Bobcats roster that lacked talent on all levels, but the numbers speak for themselves.
D.J. will now venture onto Indiana and likely a backup role behind George Hill in the next step of his NBA career.