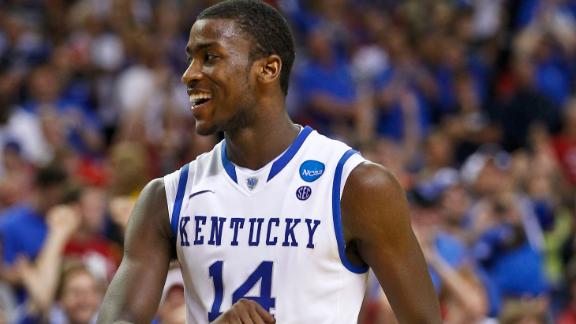 Surprise, surprise. The word in the past few weeks is that the Bobcats have had Thomas Robinson on the top of their draft board. Well, that must have not been so. Charlotte selected Michael Kidd-Gilchrist with the 2nd pick after trade talks with Cleveland and Houston failed.
The initial reaction with the pick was filled with surprise, but not disappointment. Kidd-Gilchrist is the youngest player in this years draft and is believed to have the highest ceiling of anyone behind Anthony Davis in this class. In a best case scenario comparison, Kidd-Gilchrist has been called a Scottie Pippen type. He lacks a consistent jump shot and isn't an excellent passer to this point, but he's a lockdown defender that can guard any position except the 5 and plays as hard as anyone he'll ever step on the floor with.
The 'change of culture' phrase was beat over all of our heads by the front office since last season ended and this pick certainly sticks true to that point. Kidd-Gilchrist is a fierce competitor, an extremely hard worker and a winner. Kidd-Gilchrist makes it back-to-back years that the Bobcats have drafted a player from the NCAA national championship team (Kemba last year) and also back-to-back year's they've drafted the youngest player in the entire draft (Biyombo last year).
Make no mistake, this is a great pick. Quite possibly the best one that Jordan has ever made. Kidd-Gilchrist is likely going to be a starting SF in this league for a long time and hopefully an all-star. He's going to show up every day with the right attitude and seemingly has no baggage. Cho's fingerprints are all over every move the Bobcats are making these days. Not only is he drafting youth with extremely high potential, but he drafting/bringing in players with the right attitude towards the game. As Cho has said all along- change of culture.